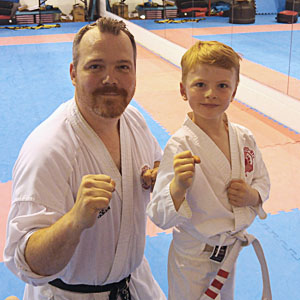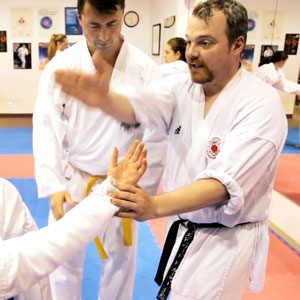 Instructor Sensei Ed Docherty
Raised in Whitby, Ed Docherty has been studying Chito Ryu Karate Do since 1985. Currently Ed is a 5th Dan Black Belt and Renshi (Polished Master Teacher). Ed, a successful competitor has competed in provincial, national and international competitions. He achieved a long time goal by winning the +75kg Kumite at the 2007 World Chito Ryu Karate Championship (Soke Cup) which was held in Bergen, Norway. In addition, Ed coached for the Ontario Provincial Karate Team for seven years. Ed was selected by Karate Canada to be a Canadian National Karate Team coach for the event of the Jr Pan American Karate Championship being held in Medellin, Colombia, Aug 29-31st 2013.
Ed is passionate about helping his students achieve their karate goals, his classes are positive, high energy and he takes great care to ensure that all of his students receive the best instruction.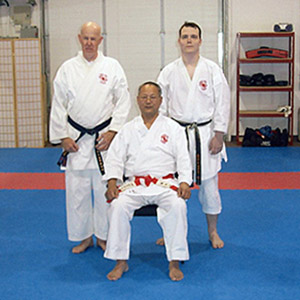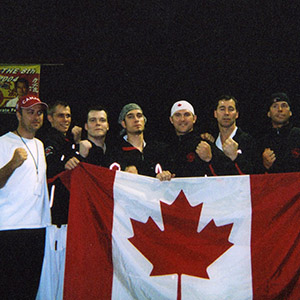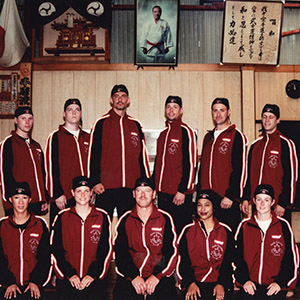 Ed Docherty 5th Dan, Renshi
(Polished Master Teacher)
Competition Highlights:
2007 World Chito Ryu Karate Championship (Soke Cup) – Bergen, Norway
Gold +75kg Kumite
Silver team Kata
Silver team Kumite

2004 World Chito Ryu Karate Championship (Soke Cup) – Newcastle, Australia
Gold team Kumite (first time the Canadian team has won gold in this event, first time a non Japanese team has won gold)

2001 World Chito Ryu Karate Championship (Soke Cup) – Kumamotto, Japan
Bronze +75kg Kumite
Bronze Kata

1998 World Chito Ryu Karate Championship (Soke Cup) – Richmond Hill, Canada
Bronze +75kg Kumite
Bronze team Kumite

6 Canadian National Championship (NKA) medals (in Kata and Kumite)

Ontario Provincial Karate Champion for 5 years

Canadian Team Member (for the 1998, 2001, 2004 & 2007 World Chito Ryu Karate Campionship (Soke Cup)

Ontario Provincial Karate team member for 12 years

2005 Karate Ontario Carmen Forgioni Memorial Cup Recipient

2001 Karate Ontario Male Athlete of the Year

2001 Karate Ontario Musoka Cup Sportsmanship Award Recipient